This Floorplan Friday comes from searsarchives.com
Its amazing to see how much has changed in the last 80-90 years. Price, size of rooms, open floorplans etc. However, this home definitely still had style and I love to see them on the numbered streets here in Idaho Falls.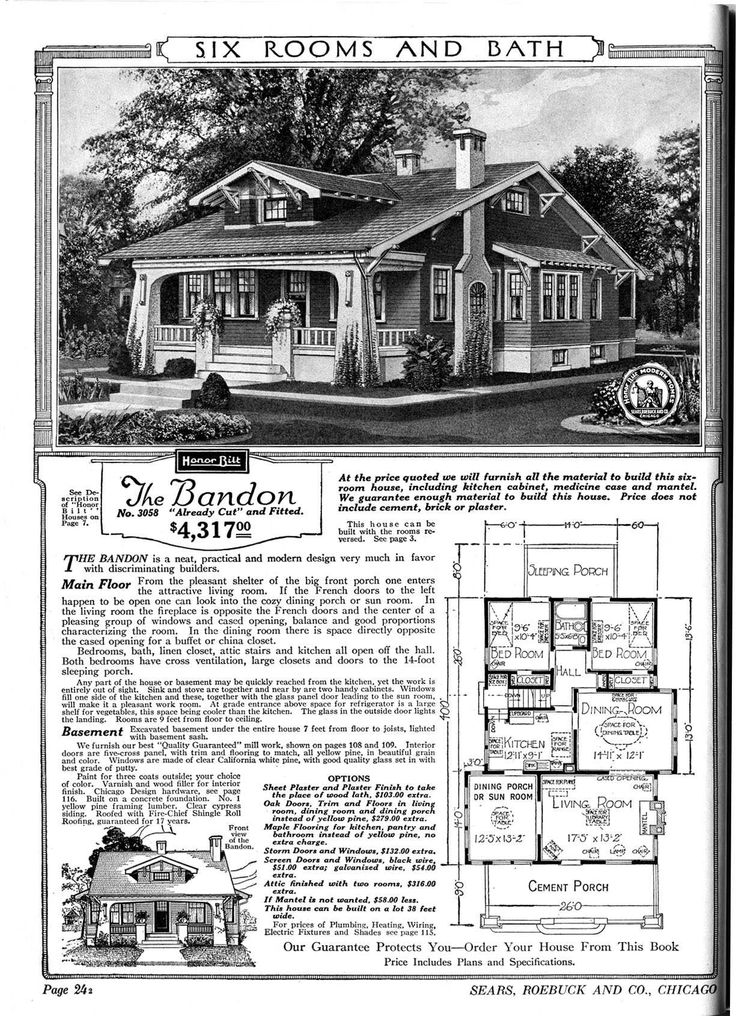 The text is small so I'll go through the pain of rewriting the description.
"The Bandon No. 3058 "Already Cut" and Fitted. $4317.00
The Bandon is a neat, practical and modern design very much in favor with discriminating builders.
Main Floor
From the pleasant shelter of the big front porch one enters the attractive living room. If the French doors to the left happen to be open one can look into the cozy dining porch or sun room. In the living room the fireplace is opposite the French doors and the center of a pleasing group of windows and cased opening, balance and good proportions characterizing the room. In the dining room there is space directly opposite the cased opening for a buffet or china closet.
Bedrooms, bath, linen closet, attic stairs and kitchen all open off the hall. Both bedrooms have cross ventilation, large closets and doors to the 14-foot sleeping porch.
Any part of the house or basement may be quickly reached from the kitchen yet the work is entirely out of sight. Sink and stove are together and near by are two handy cabinets. Windows fill one side of the kitchen and these, together with the glass panel door leading to the sun room, will make it a pleasant work room. At grade entrance above space for refrigerator is a large shelf for vegetables, this space being cooler than the kitchen. The glass in the outside door lights the landing. Rooms are 9 feet from floor to ceiling.
Basement
Excavated basement under the entire house 7 feet from floor to joists, lighted with basement sash.
We furnish our best "Quality Guaranteed" mill work, shown on pages 108 and 109. Interior doors are five-cross panel, with trim and flooring to match, all yellow pine, in beautiful grain and color. Windows are made of clear California white pine, with good quality glass set in with best grade of putty.
Paint for three coals outside; your choice of color. Varnish and wood filler for interior finish. Chicago Design hardware, see page 116. Built on a concrete foundation. No. 1 yellow pine framing lumber. Clear cypress siding. Roofed with Fire-Chief Shingle Roll Roofing, guaranteed for 17 years."
Some of the things that jumped out at me were the bedrooms having cross ventilation for natural cooling. The sleeping porch, which Idaho Falls used to have, imagine how cold that would have been in the winter. I also thought that 9′ ceilings on the first floor were nice for the time period.
Greg Croft
Your Architect. Your REALTOR®.
Sage Leaf Group, Silvercreek Realty Group
SageLeafGroup.IdahomeFinder.com
208-252-6446